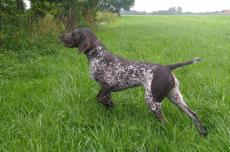 Planned breedings and upcoming litters









Anticipated Breeding:

Excited to report our up coming litter Fall of 2018

Dam : Hazel vom Canuck

D1 , S1 , VGP 1 , HN ,  HD A1 , FW. V

Sir : Mondial vom Nonnenhaus -  ZB Nr 1021/10 D1, AZP1, VGP1, BTR, VBR, LN, SW1(20hour blood track), HN, HD0, V1

Hazel is truly a dream hunting dog.  She has some of the best hunting abilities one would want in a truly versatile hunting dog. She has very stylish points and outstanding nose. She is a very muscular female with a fabulous head and very correct conformation . Hazel is a lovely house pet when she is not hunting

Mondial is a tall, very elegant and noble male whose pigmentation is extremely eye catching. He has a very nice male head, very nice fore chest, excellent top and bottom lines, and a very nice deep chest. He is 100% Hege-Haus line bred. He is the son of Ungaro KS vom Hege-Haus who has produced many nice dogs. Ungaro's offspring may have some of the best testing records in recent years on the field and show circle. Mondial is a very driven, cooperative and willing to please, "hunt-all-day" type of a dog. He is extremely easy to handle and his testing record is evidence of his ability in the field and water. He is a very concentrated and methodical hunter. He uses wind in his tracking to his advantage. Frozen seamenfrom mondial will be available on a limited basis to approved females.

Sir and Dam are exceptional hunting dogs and puppies are expected to be loaded with natural ability and fantastic hunting abilities and outstanding conformation.  Deposits will be taken on limited basis.

Contact us for more information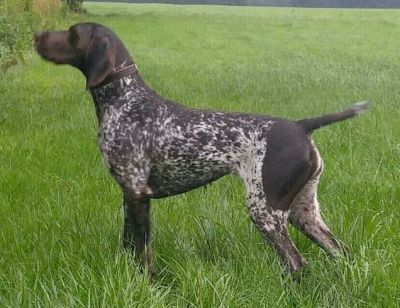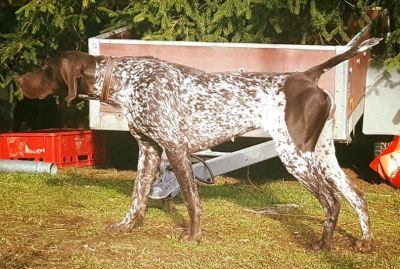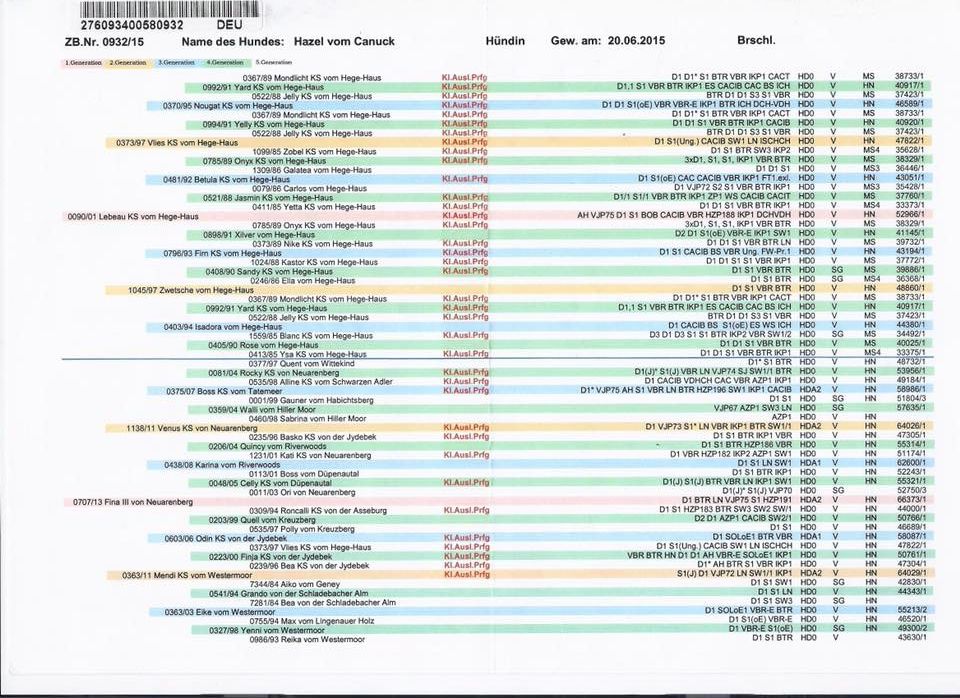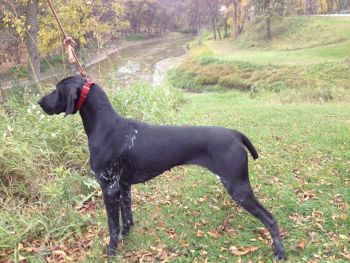 We are very excited to announce a much awaited breeding for early fall of 2018, taking deposits on a limited basis.

Dam: Fina III von Neuarenberg

D1(4H nose), VJP75, VGP1 336(4H water search), Solms1(4H nose, water search), HZP191, BTR, LN, HN, HD-A2, Fw 2x V1

Fina III von Neuarenberg is a very elegant yet feminine dog with unique markings. Fina is an extraordinary female, with immense love of water paired with great nose and search. Her testing scores are a testament to her ability in the field, water, and her prey drive. She has consistently received 4H(exceptional) for her nose and her water search. Her HZP score of 191 may be one of the highest which has been awarded in Germany in 2014. At home she is very calm, and loving, yet when hunting she is all business. Fina's breeding has been repeated 4x which is a clear indication of extraordinary breeding. Her Mother was one of the top dogs at 2014 Kleeman with 2x 4H(nose, search)

Sir : Sander vom Nonnenhaus

ZB.Nr.: 0182/15 Schwschl. m. schw.Kopf, gew. 27.12.2014  Derby prize 1 , HZP o.Ente 142 P., AZP prize 1.(4HSearch, 4H search behind duck) , VGP prize 1  332 P 4H(search behind duck)HN,BTR, VBR ,LN, AH , Saujager, HD-Frei A2, Formwert V1.

Sander is a very harmonious, noble, and elegant male with a high prey-drive, exceptional water work, and fantastic cooperation. He searches the field very methodically and utilizes his talented nose to his advantage. He ranges depending on the terrain he's hunting on, his blood tracking and tracking ability may be some of the best we have seen. His use of his nose is always with purpose, both on land and in water. He is a formidable force both in the field and in water with outstanding speed and accuracy yet very calm and loving at home with the family. Puppies from this cross will posses high drive and desire with amazing abilities in water and an outstanding nose.

Contact  -   DR.Kaveh Elahiyoun at (204) 761-5444   -   email Drelahiyoun@yahoo.ca

Join us on facebook  or   www.vomcanuckkennels.com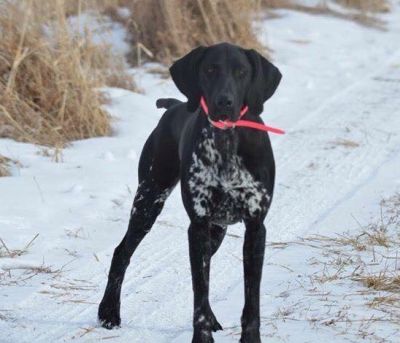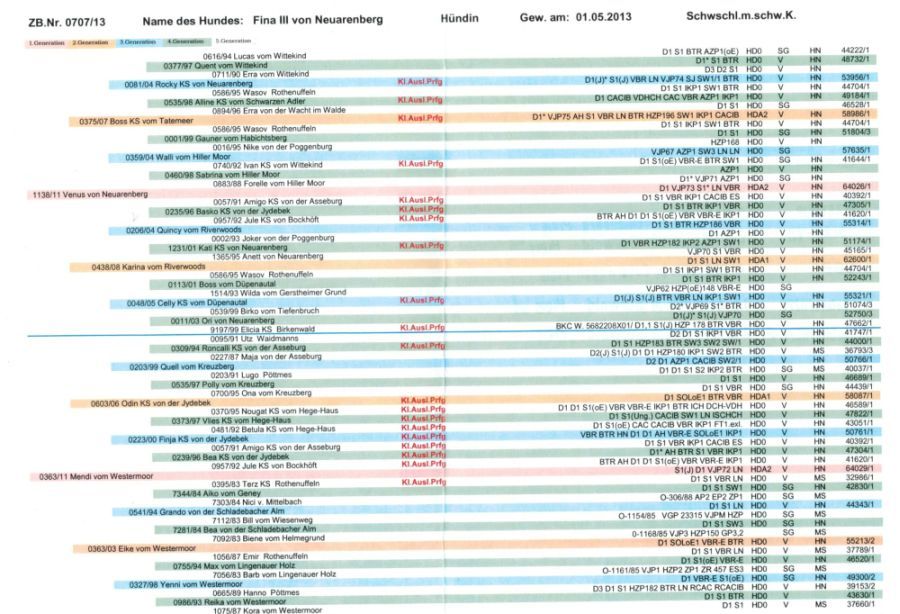 Sander vom Nonnenhaus  -   click here for Ahnentefel