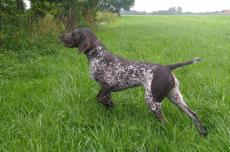 Planned breedings and upcoming litters









Anticipated Breeding:

Vom Canuck is very happy to be expecting puppies from these two very talented and be DKs.  Puppies expected at 2nd or 3rd week of August 2021.

Dam: Kuntasch Vom Canuck

D1, S1, VGP1, VBR , SW/20 1a Preis, SW/40  1a Preis  , HN , V1 , A2

Sire: Quinn vom Klepelshagener Forst

D1, S1, VGP1/334P., BTR, VBR, HN, LN, Formwert: V, HD-A1 sowie OCD-frei

This is a cross between two very talented Dks.  Tasch is a tall very loving and super talented female, Her pray drive and absolutely fantastic hunting abilities are truly one of a kind.  She uses her incredible noes to her advantage regardless of the train, field or water.  Fur or feather she will get the job done .

Her loving and attentive nature makes her a wonderful house companion but a formidable force when it is time to hunt.  Her testing scores speak volumes about her abilities. She is the only female in North America and one of the few in DKV who has passed 20 hours and 40 Hours blood test with 1st prize.

Quinn is a very handsome and super calm yet very talented male .  He is a very easy going male that loves to hunt and he does not disappoint.  His searches are very calculated and methodical.  His love of water  makes him a very effective and fast retriever.  He has been producing some very nice puppies in Germany and Europe.

Combination of these two beautiful dogs should produce puppies with ample natural abilities, superior Nose and water drive yet very calm and loving at home .

Contact us for more information:

Dr kaveh Elahiyoun (204)761-5444  -  Drelahiyoun@yahoo.ca Vom Canuck "O" litter breeding anticipated in Dec 2020/Jan 2021

Dam: Becasse five senses (Karma)

D1, Solms 1 (4H  duck search ), VGP 1( 336) (4H search , 4H duck search ), HN, VBR , V , A2

Karma is a very talented female.  She is about 59cm and 55lb. Her searches are very methodical and she is a bird finding machine. She has an extremely good nose which is evident in her testing scores. She has received full scores in all her tests. Karma is absolutely amazing in water and her search is implacable . She is from the last breeding of famous  KS Cuno vom Thüringer Zipfel.

Sir: Sander vom Nonnenhaus

Derby prize 1 , HZP o.Ente 142 P., AZP prize 1* (4HSearch, 4H search behind duck ), VGP prize 1  332 P 4H(search behind duck) HN,BTR, VBR ,LN, AH SJ , Saujager, HD-Frei A2, Formwert V1

Sander is a very harmonious, noble, and elegant male with a high prey-drive, exceptional water work, and fantastic cooperation. He searches the field very methodically and utilizes his talented nose to his advantage and has a remarkable speed when searching . His use of his nose is always with purpose, both on land and in water. He is a formidable force both in the field and in water yet very calm and loving at home with the family.

This fantastic breeding is combination of old Hege haus and Neuarenberg blood lines.

Sir and Dam are exceptional hunting dogs and very complimentary to each other.  Puppies will be loaded with natural ability in water and field with outstanding conformation and a very pronounced "OFF" switch.

Deposits on will be taken on limited basis. Puppies will be born in Michigan.

Contact us for more information:

Dr kaveh Elahiyoun (204)761-5444  -  Drelahiyoun@yahoo.ca